Fife Kickboxing & Self Defence Academy
If you wait until you're ready, you'll be waiting forever...
At Fife Kickboxing we want to help all of our students develop and grow, not only as martial artists, but as individuals.  In a supportive environment we strive to develop self-confidence, ambition, self-belief and a "CAN DO" attitude in all our students.   Everyone is encouraged to push boundaries and train hard.  If you want to be part of a tight knit, friendly and community spirited club we invite you to come along to FKSDA Martial Arts Studio and meet our Instructor Team.
The Coronavirus pandemic has changed the way we all live, work and train.  In response to the necessary social distancing and self-isolating required to protect ourselves and the fantastic NHS we have moved our teaching online using several platforms.
Getting started couldn't be easier!  We offer 2 FREE taster classes in our Beginners Zoom class.  Click on the GET STARTED button above and fill in the form.  We will send you information on the classes, what to wear, times of training and cost, should you wish to keep training.
Book in to try our online classes for FREE!
Whether you are looking to lose weight, get fit, or just try something new, the instructors at Fife Kickboxing are there to motivate and support you towards achieveing your Black Belt ambition.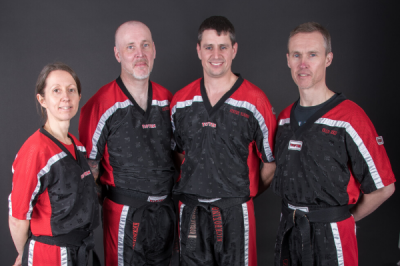 Meet the team...
You can be assured that both you and your family will be in safe professional hands...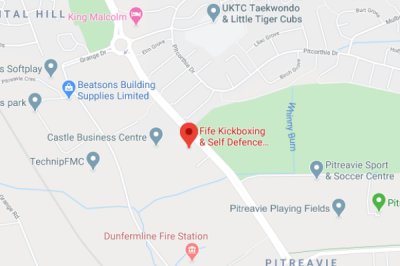 Where to find us...
We are located on the south side of Dunfermline on the way to Rosyth at Castle Business...